cosmetic
Bonding is a common cosmetic procedure due to its relatively low cost and ease of application. It is often used to reshape or change the color of a tooth and fill in slight spaces between teeth. The composite material used in bonding can be shaped and polished to match all surrounding teeth.
Looking for Teeth Whitening in Fresno? Yearning for a bright youthful smile?
Dr. Christensen offers a full range of cosmetic dentistry including professional teeth whitening. Teeth whitening is the #1 requested and performed cosmetic dental procedure. Teeth whitening (sometimes called teeth bleaching) is a procedure that brightens teeth and helps to remove stains and discoloration.
Throughout the day a thin coating of bio film collect on teeth, the bio film can attract stains that can be trapped in the pores of tooth's enamel.
Teeth whitening by a dental professional is key as cavities need to be treated before teeth are whitened. Cavities are problematic because whitening solution can penetrate the cavity allowing decay to reach inner areas of a tooth. People with good dental health may also use a kit to whiten teeth at home. However, in a single office visit, teeth whitening performed by a dental professional will produce brighter results that are more consistent in color across all teeth.
The most common type of home teeth whitening involves placing a gel-like whitening solution, which usually contains hydrogen peroxide, in a tray that resembles a Nightguard or mouth guard. Over-the-counter mouthpieces are unlikely to fit correctly and can cause gum irritation if the whitening agent seeps out. The tray is then placed over the teeth for a certain period of time, anywhere from an hour or two to overnight.
Lumineers porcelain veneers offer the painless way to a permanently whiter and perfectly aligned smile. Lumineers are a contact lens-thin 'smile shapers' that are applied to teeth without any grinding or shaving of your natural teeth.

Lumineers transform teeth into a naturally beautiful appearing smile that looks perfect for every individual. Lumineers can even be placed over existing crown or bridgework without having to replace them.
BENEFITS:
- No shots
- No grinding away tooth structure
- Could be a reversible procedure
One hour bleaching systems use a very bright light to activate higher bleaching concentrations to produce faster, more dramatic whitening results.
The technician will protect your mouth very carefully using cotton rolls, gauze and a liquid dam.
A special whitening lamp is used to activate the whitening gel for approximately 60 minutes.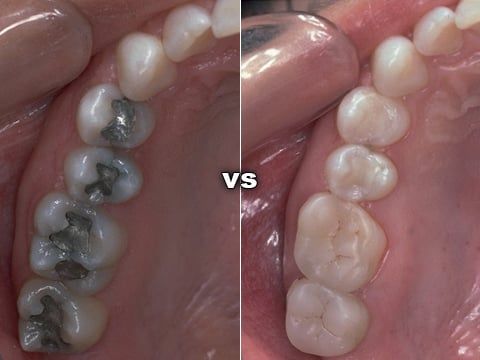 In order to make a filling appear almost invisible to the naked eye, composite fillings are often used. These fillings are designed to match your natural tooth color and are bonded to your teeth, which makes them less likely to fall out. These fillings are used to replace older fillings made of silver or gold. Tooth colored fillings have a more aesthetic appearance, can be completed in one visit, have no chance of forming a "leak" and are less likely to crack a tooth.
Veneers are used to enhance teeth that are misaligned, misshapen or discolored and can be used to repair gaps between teeth. These custom made porcelain "shells" are applied to teeth located in your "smile zone."

In order to apply a veneer to a tooth, the tooth must be cleaned and prepared for an impression to be taken. After this impression has been created, a veneer can then be made and bonded to the tooth or teeth in question. When the veneer is set, it is then shaped and polished to look like a natural tooth.
The Lava All-Ceramic System from 3M ESPE uses innovative technology and superior materials to help produce high quality all ceramic restorations for our patients. Using the speed and precision of CAD/CAM technology, it creates all-ceramic crowns and bridge substructures with zirconia, an extremely strong, stable and fracture-resistant ceramic material. The result is efficient production of restorations with excellent esthetics, enduring strength and precise fit.